Buy Free Schmidt! T-Shirts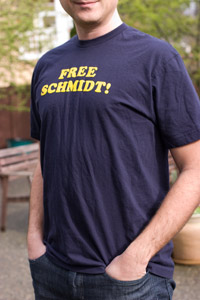 FREE SCHMIDT! isn't free, but we do keep prices down to encourage people to spread the word. Order a bunch and enlist your friends in the FREE SCHMIDT Army! All net proceeds (approximately $10 per shirt) benefit the Innocence Project.
Cost: $22 each. Includes shipping.
T-shirts are 100% cotton from American Apparel. California residents will be charged sales tax upon check-out. Ordering is through PayPal. Please contact us for bulk rates or for international shipping.
Men's (Unisex) Free Schmidt! T-Shirts
These are technically men's sizes. They run small—if you're a man, we recommend ordering one size larger than
you normally wear unless you like a tight t-shirt.
Youth / Petite Women's Free Schmidt! T-Shirts
Note these are technically women's sizes, but they run very small, so they also work for youth.
Ready to check out?
You can change quantities once you view the cart.
Questions? Email us at freeschmidt@gmail.com.